You can visit Ananda Village, join classes and immersion programs in person, or you can take a wide variety of classes at a distance through Online with Ananda.
Join us for a dynamic exploration of spiritual community at Ananda Village. Serve with joy and apply your skills (or learn new ones) in farming, building, technology, administration and more. Study, practice and serve surrounded by diverse andspiritually supportive friends. Explore the path of Self Realization and learn Paramhansa Yogananda's effective techniques for expanding your sense of self, such as meditation, Kriya Yoga, spiritual Hatha Yoga, and divine friendship. Learn more
Dates: Apply now. June 1st to October 1st, 2021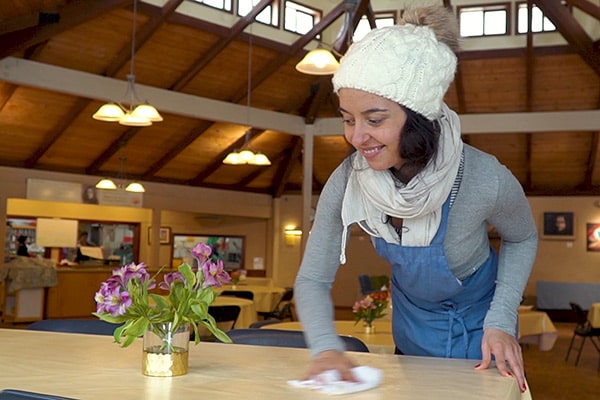 Experience a deeper connection with your Divine Potential through selfless-service in Ananda's Karma Yoga Ashram Program. Based at Ananda Village's Expanding Light Retreat, this program brings a balance between spiritual seeking and daily activities. You will get to serve with like-minded friends in a spiritual environment, study Yoga philosophy and participate intwice-daily sadhanas featuring Ananda Yoga, Ananda Meditation and Energization Exercises. Learn more
Dates: Apply year-round
---
The Expanding Light Retreat Programs and Classes
Ananda Village's main spiritual retreat offers programs year-round on yoga, meditation, holistic health, and spiritual growth. View The Expanding Light Calendar
Professional Training Programs at The Ananda School of Yoga and Meditation
The Ananda School of Yoga and Meditation (based at The Expanding Light) offers teacher training in yoga, meditation, yoga therapy, and spiritual counseling. View Upcoming Teacher Training Calendar
Have a Question about Expanding Light Programs? The Expanding Light is always adding new programs. If you can't find what you're looking for, or have any questions about courses, please phone them at 800-346-5350×1 or email [email protected].
Ananda Meditation Retreat is located 6 miles from Ananda Village.  Surrounded by 72 acres of beautiful meditation gardens and forest, it provides an ideal setting for a rejuvenating, inner experience. Ananda Meditation Retreat offers Personal Retreat and Mentored Personal Retreat stays, as well as Silent Group Retreats, Women's Retreats and more!
Have a Question about Meditation Retreat Programs? Contact the Meditation Retreat at 530-478-7557 or email mailto:[email protected].
Take a Program Online
Online with Ananda
Ananda Worldwide offers in-depth online courses, as well as interactive webinars, guided meditations, and discussions on the teachings of yoga. View courses and webinars
They also host the Ananda Virtual Community, providing support, inspiration and spiritual friendship to truthseekers worldwide.
Have a Question about Online with Ananda Programs? Contact them at 530-478-7611 or email [email protected].